First things first, Shout out to writer April Reign (creator of #OscarsSoWhite) because without her starting the aptly named hashtag, most of the recent progress made around the Academy Awards would not have been possible. Not only would we still be passively complaining about how little diversity is spread throughout the Oscar nominees and films, but the Academy of Motion Picture Arts and Sciences also would not have paid attention to the noise and finally changed their voting process.

We're sure many people think that things like movies and movie awards are trivial (and maybe in the grand scheme of things they are) but since people spend so much of their lives consuming media, we actually think that films are pretty important. Movies are one of the ways for people to learn new things, encounter other cultures, and be represented in the world.

If 'the black guy' dies first in every movie, what does that subconsciously tell you? It tell you that the black characters are ultimately not important and disposable. It's not a far cry for people to start to adopt these attitudes in real life.

If all the Latinx characters in movies are criminals and ignorant buffoons, how do cultures that do not encounter these people start to think about these groups?

If all the Asian characters in a movie are racial caricatures and stereotypes, it becomes harder and harder for people in those groups to be seen and treated as anything but by people who may not be as educated. You get our point.

Big budget films have been more popular than ever. Marvel and Disney films have been topping the box office for the better part of the last decade. It stands to reason that given their critical as well as commercial success, that one day they'd finally start to get some much-deserved Best Picture buzz.

Let's not be cute about it, the Oscars have always been fairly bougie and pretentious. When fans, bloggers, and columnists started to make noise online about their desire to have the cultural powerhouse and phenomenon, Black Panther nominated for Best Picture, the academy's response was to announce a new award for "Popular Films". Funny that a film with a predominantly African-American cast, considering its standing in American culture would receive a "separate but equal" Best Picture award, fans revolted and called the move a total cop-out. It was a public relations nightmare for the already beleaguered academy. The academy relented and announced they'd reversed their decision.

As early as February 2019, the same month as the Academy Awards, the Academy also announced that they were not going to televise crucial film categories like Editing and Cinematography. Let's think about this for a second…The Cinematographer or Director of Photography is the artist who ACTUALLY films the movie. The Director has the vision, but without a DP, execution is literally impossible. Let's put it this way… If filmmaking is all about storytelling through the vision of the director, it's the cinematographer who brings their vision to life.

Don't get us started on Film Editing. How do you expect to put the vision together after all the footage is shot without the editor? We know the award show is long, but either do it right, or don't do it at all. How does an academy that prides itself on artistic integrity decide to cut two of the most artistic categories in film? So after another PR backlash and subsequent nightmare, the academy announced that it will air the categories after all.

"In the history of CINEMA, masterpieces have existed without sound, without color, without a story, without actors and without music. No one single film has ever existed without CINEMAtography and without editing." – Alfonso Cuaron


That brings us to tonight. We both love films of all types and 2018 was a record year for the box office as well as for critically acclaimed movies. The categories are stacked and our glasses are full. Let's get into it:
F. Dougie: Ok, so the show is already starting off on the wrong foot. Kendrick is overseas and can't perform at the awards tonight.

Idris Gray: Who's replacing him?

Dougie: No one. They had all the 'Best Song' nominees performing but he couldn't make it back in time and still put on a dope performance. But I'm off that Sancerre! So we'll need to inject some much needed blackness into this ceremony!

Idris Gray: DAMN

PERFORMANCE – Queen feat. Adam Lambert

Dougie: Aight, here we go. Pour one out for Freddie.

….They shoulda just had these three ladies host! (Amy Poehler, Maya Rudolph, Tina Fey).

AWARD – OUTSTANDING SUPPORTING ACTRESS (REGINA KING)
Dougie: Pulling for Regina King here…

Idris: Regina for the win. It's a celebration. Also, Chris Evans really out here being Captain America. Chivalry is alive and well, sort of.
Dougie: Ayyyyyyyyyyy!!!! REGINA! What an amazing actress. Its about time she got her due. How long she been out here doing this?! How many tv shows? How many movies?

Idris: Yeah it's a long time coming for sure. She wearing that dress too.

Dougie: It's her moment, Idris but I'mma let you have it too.

Idris: Damn. Now Helen (Mirren) out here. Still looking fine.
Dougie: Helen Mirren. That's another legendary actress.

Wooooo, I can't fake homie. Been trying to surf that wave for a loooonnnggg time.

Idris: You think Aquaman (Jason Mamoa) hittin' that? LOL I'm playin'

Dougie: Lisa Bonet tho. He's busy.
AWARD – DOCUMENTARY (FREE SOLO)

Idris: I haven't seen any of these tbh, I should watch more documentaries.

Dougie: RBG and Free Solo were dope. Hope she lives forever tho forreal.

Idris: Looks like the free climbing one would be cool.

Dougie: Son. In 4K? Forget about it.
Also, you'll never see no brothas up there…. Sorry, I had to do it.

Idris: LOL. Well, real life is extreme enough ain't it? These dudes looking for more "thrills". I feel a thrill every time I see the po-po.

Dougie: LOL, "Oh look, the police. What is that, $0.25 across the street? Just gonna walk into oncoming traffic instead of possibly dealing with these dudes".

Idris: Everything I do is extreme. Extreme living. Extreme taking this elevator. Extreme cashing this check.

Dougie: They call Idris "POINT BREAK".
Commercial – Google Assistant

Idris: These google commercials are really good. They really opened the checkbook to sell that 'OK Google' functionality.

Dougie: You can do that when you don't have to pay taxes.

Idris: Hate the game Dougie… Hate the game

Tom Morello. Great guitar player.

Dougie: Legend, mate. He's going in on Dick Cheney tho. Didn't see that coming. Just be glad Zack DelaRoca ain't out here keeping it 100 as well.

Idris: Yeah… Didn't watch this (Vice). Looks really good though. We should check it out.

Dougie: I heard it was good. These guys did "The Big Short"? I really liked that one.
AWARD – BEST MAKEUP AND HAIRSTYLING (VICE)
Idris: They really made Bale look like Dick Cheney. Scary what they can do with makeup.

Dougie: Then they definitely deserve this award. Christian Bale is too good. Dude can straight act.

Idris: Makes me wonder, what would you say is the most impressive makeup job you've seen? No CGI.

Dougie: Robert Downey, Jr. Tropic Thunder. lolol

Idris: Damn… He really got away with black face though.
AWARD – COSTUME DESIGN (BLACK PANTHER)
Idris: What are these fools doing? LOL (Melissa McCarthy and Brian Tyree Henry)

Dougie: Clownin! Lol

Dougie: YYYEEEEEESSSSSSSSSSS!!!!!!

Idris: DUH! Like how could it not be Black Panther? Wakanda Forever. This is a moment.

Dougie: Fam, Ruth Carther is a FUCKING. LEGEND.

Idris: Yes you got it fam!

Dougie: We did it. WE, IDRIS. ME AND YOU! YOU AND I.
AWARD – PRODUCTION DESIGN (BLACK PANTHER)
Idris: Another one in the bag here. This film was a moment.

Dougie: Black Panther just won again. I can't do this….. I'm weak

Idris: I told you! I said it, haha. We all knew this was ours though? Right?

Dougie: *Cries into sweater* Don't talk to me right now.

Idris: There, there. LOL. Honestly, this is the type of shit is what we need.

Dougie: For soooo many reasons.
AWARD – CINEMATOGRAPHY (ROMA)

Dougie: Can't believe they almost didn't televise this. Roma was a beautiful film.

Idris: Yeah. Really well done. We "Objectively Latin" right now.

Dougie: Arriba la Raza!
Idris: HAHA Emilia Clarke with a little funny.

Dougie: Imagine RGB with Khaleesi's Dragons tho.
Performance – "I'll Fight" – Jennifer Hudson

Dougie: Her performance from Dreamgirls still gets me in my feelings. "And I am telllinnnggg you!"

Idris: Damn she was a little flat there though. Am I hating? It was still an amazing performance.

I need to turn on my VPN to the midwest and see what commercials they showing down there. I guarantee you there are no black dudes selling Cadillac Escalades.

Dougie: Hakeem Olajuwon ain't got a dealership in Houston?

Idris: Houston got a strong Nigerian presence actually. The brand is strong out there.

Dougie: Nigerians been on that take over for a minute. Let me be down.

Idris: Oh nigga you in. Trust that.
AWARD – SOUND EDITING (Bohemian Rhapsody)
Dougie: Damn. This is a tough category.

Idris: Nah, this is a sleeper cat for sure.

Dougie: Wow. Bohemian Rhapsody coming in strong for Rock music. I'm trying to see a renaissance.

Idris: Wow. Well, I feel like that was the easy choice though.

Dougie: I mean, A Quiet Place was masterful. I haven't seen a horror movie that took so full advantage of sound like that before. But then again, First Man went in as well. But that last 30 minutes of Bohemian Rhapsody, I thought I was IN the stadium.

Idris: Yeah I would have thought A Quiet Place for sure. But you have a movie full of some of the greatest rock songs ever written. Tough to beat.
AWARD – SOUND MIXING (Bohemian Rhapsody)

Idris: I have no clue. I guess Bohemian Rhapsody again?

Dougie: Yeah, it would have to be, right? Those teams work so closely together it would be crazy to not give them both awards.

Idris: Yup! This makes sense. Honestly, this is all off the strength of QUEEN. The music is too fire. "Fat bottom girls" is my anthem. That's what I listen to when I'm feeling down.

Dougie: Also, your favorite IG hashtag.

Idris: Hey now, I see those likes on our handle. Those ain't all from me.

Dougie: You know this is a team effort! I'm trying to gain us followers! We are partners! My likes are your likes!

Idris: I mean. Yes those are all me…….cough
AWARD – BEST FOREIGN LANGUAGE FILM (Roma)

Idris: ANGELA!! do we follow her on Insta? Damn, she speaks Spanish too?

Dougie: We do now. Has she aged? Seriously.

This is crazy. Roma is nominated here and for Best Picture?

Idris: Yeah, well deserved though.

Dougie: It really is a gorgeous movie. And Cuaron is a genius filmmaker.

Netflix gonna be feeling themselves if they win a Best Picture.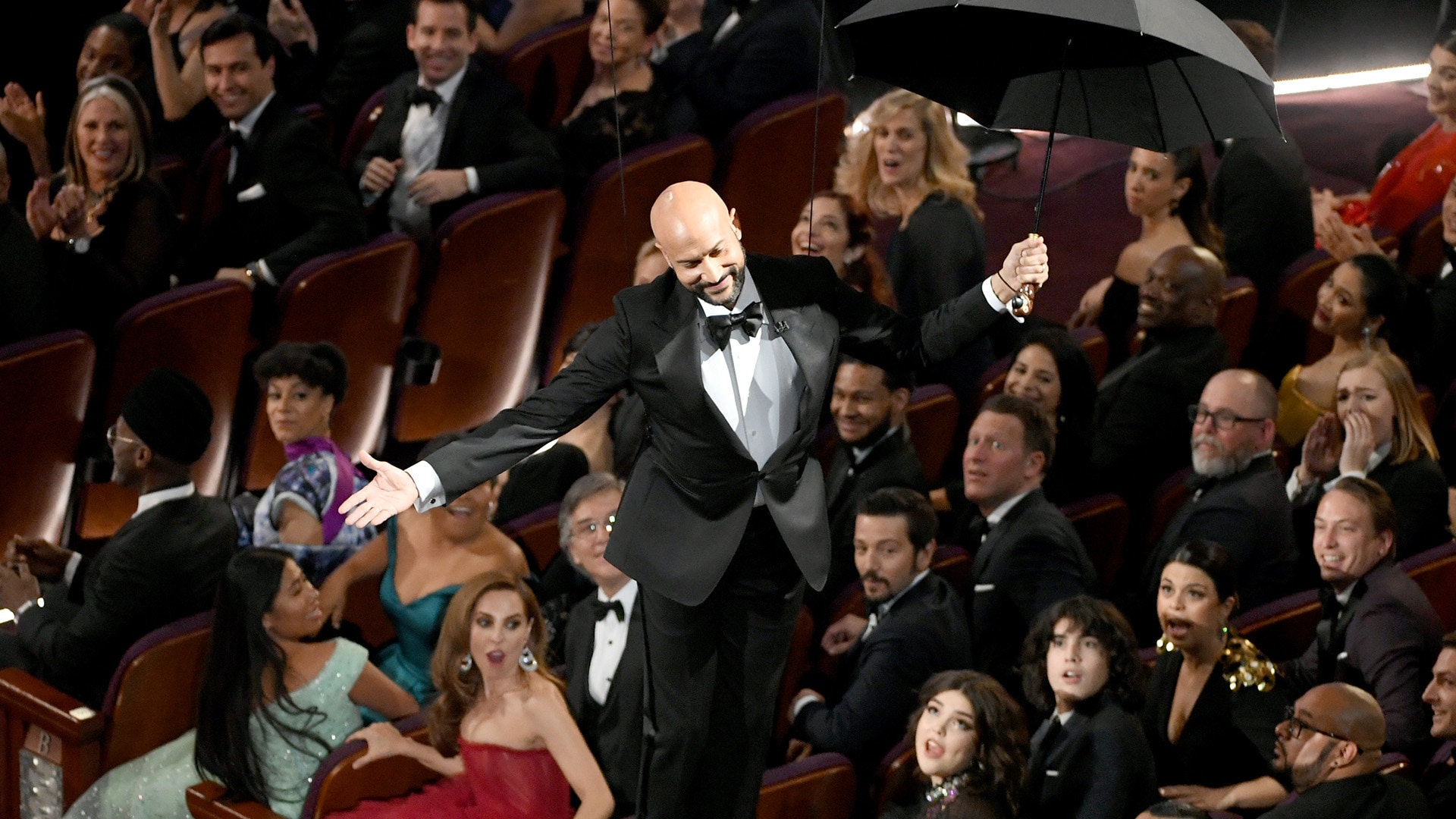 Idris: HAHAHAHA. Keegan Michael Key a fool.

Dougie: Yo, get your mans.

I'm saying tho, do we really need a host? These presenters are killing it.

Performance – "The Place Where Lost Things Go" – Bette Midler

Idris: Ok… Hmm. Thoughts…. Lol

Dougie: She's a legend in many communities. I'm not touching this one.

Also, I heard Mary Poppins was good.

Idris: Nah you misunderstand. Helen Mirren or Bette Midler?

Dougie: I gotta rock with my girl Helen, but Bette still got some milkshake left.

Idris: Haha! I'm saying though.
Dougie: Trevor Noah. The future. Did you know he's actually in the movie?

Out here speaking Xhosa.

Idris: Yeah, Africa stand up!
AWARD – FILM EDITING (Bohemian Rhapsody)

Dougie: Low Key, this is one of my favorite categories.

Idris: Of course Bohemian Rhapsody. Honestly thinking back on the film… They deserve this.

Dougie: I find it interesting that BR is winning many of these technical awards, considering all the controversy behind Brian Singer as Director. I mean, he's not even nominated and its due to all the fuckery he bought upon his cast and crew. He's probably be a shoe-in tonight if it wasn't for his personal fuck ups.

Idris: Hmm yeah. Can't always separate the person from the art I guess.

Charlize Theron. Loved her in, everything she's ever done haha.

Dougie: LOL, Testify.
AWARD – OUTSTANDING SUPPORTING ACTOR (Mahershala Ali)
Idris: DUDE this is gonna be a good one. Great performances here. Who you got?

Dougie: My man Mahershala. Every time he hits the screen he's fucking GOLD.

Sam Rockwell has always been one of my favorites too. He's always great. But he just won last year so…

Idris: Yeah, Sam as 'Dubya' is fucking amazing.

Dougie: WOW. This is an incredible night.

Idris: Hey! This too is a fucking moment. And he, like me, likes to wear beanies inside. I think that's what that is.

Dougie: That's 2 for him, tho! In 3 years! I know this is the Academy Awards and I shouldn't bring up TV, but whenever this dude steps on screen in True Detective he's giving a master class on acting. The choices he makes on screen are brilliant.

Idris: Damn, going to the Academy museum would be lit. Future review coming soon!

Dougie: Holy shit. "I want to go to there".
AWARD – ANIMATED FEATURE FILM (Sider-Man: Into the Spider-Verse)
Dougie: This is Spider-Verse or I'm out.

Idris: I'm with you.

Dougie: If any of you haven't yet seen this film. It's a swing through years and years of comic stories and characters, aimed at those who know everything about Spider-man and those who know absolutely nothing about him. It's got heart, its funny, and it'll keep you on the edge of your seat. It's also groundbreaking from a technical standpoint.

It's not only the best animated movie of 2018, but it's also one of the best animated movies ever made. Comic book or not.

Idris: This was really an experience. A beautiful film and a great story. Also it's a great example about why representation is so important in film. Seeing people or characters that look like you is important for any kid.

Dougie: You said it, fam.
Performance – "When a cowboy trades his spurs for wings" – Gillian Welch & David Rawlings
Idris: No no, no, no. What is Kacey Musgraves wearing bro?

Dougie: I mean, if you just won AOTY at the Grammy's, you'd wear whatever the fuck you wanted.

…..Also, her outfit matches this song.

Idris: Not gonna lie… The legend of Buster Scruggs was actually kind of dope.

Dougie: Was it? I guess I gotta put it on the Netflix Queue.
Commercial – The Irishman

Dougie: Oh shit…

Idris: YOOOO. That title sequence though. With the bullet? Ok… Netflix has it's big boy pants on

Dougie: I'm sold. Sold. Goodfellas is my favorite movie of all time.
Idris: HAHA Waynes World!

Dougie: "Party on Wayne"

Rami Malek DEFINITELY wins Best Actor later tonight. I don't see how he doesn't.

Idris: Easily.
AWARD – ANIMATED SHORT (Bao)
F. Dougie: Bao wins this. People were crying in the damn theater before the main feature actually started.
Idris: Sorry didn't see any of these. I was busy watching NBA youtube videos.

Dougie: Lol. They played this one before Incredibles 2. I see your point tho.
AWARD – DOCUMENTARY SHORT SUBJECT (Period. End of Sentence.)

Idris: OH I heard about a night at the garden. But again, I didn't watch any of these. I think I need to watch more shit.

Dougie: I tried to watch as many films as possible….but I can't lie…. I didn't see ANY of these.

The short films are harder to come by tho. But a movie about menstruation just won an Academy Award. The ladies not giving a single fuck out here.

Idris: Yeah these aren't on the radar as much I guess.

Dougie: They should play more of these short films before movies instead of bombarding us with 30,000 trailers before a feature.

Idris: Oh there's a concept. But you know you like the trailers.

Dougie: I actually don't watch them as much anymore. Too many spoilers.

Idris: Yeah they pretty much tell you exactly what happens in the movie now. Remember that dog trailer we saw before Spider-Verse?

Dougie: LOL, They showed all 3 acts of the movie!
They showed the kid losing the dog, the dog's journey, and then the dog returning to the kid all grown up. WTF?!

Idris: SMH

Dougie: Diego Luna got that swag tho. That's a smooth muthafucker.

Idris: Yeah, he did very well in the last season of Narcos. You catch that?

Dougie: Oh for sure. Great season. Like him in "Rogue One" as well.

Idris: Oh yeah true.
AWARD – VISUAL EFFECTS (First Man)
Idris: OK, who you got?
Dougie: This is tough. It's a toss-up between Ready Player One and Infinity War

Idris: I LOVED READY PLAYER ONE but Infinity War was great too.

Dougie: Ok, First Man looked incredible. No 8-foot tall purple villain, but they made it look like they were really landing on the moon in the '60s.

Idris: Damn I'm missing on everything. Yea… but that shit ain't exciting though. HAHA.

Dougie: The devil is in the details. It's way more subtle, I guess.
Infinity War had the most special effects shots of all time. I'll fall back, for now.

Performance – "Shallow" – Lady Gaga & Bradley Cooper
Dougie: Ok, let's see what Bradley Cooper do. We know what Gaga working wit.

Idris: He don't don't have a bad voice. But he's gonna look bad beside a pro like Gaga.

Dougie: He's doing his thing for a regular dude. Love this song tho.

I heard that's a $50MM diamond around her neck. Where are the snipers at? Is that a red dot I see?

Idris: Nah, that red light means we're live, dog. Cameras recording. Man. The hood has really done a number on you.

Dougie: My hand is shaking, fam. I'm afraid for anyone that moves to quickly. *grabs a whiskey*

Idris: We gon' pray for you fam. Leave it to Jesus. Good performance though.

Dougie: I'mma need all denominations tho… "In Nomine Patris et Filii et Spiritus Sancti"

Idris: Damn look at these ladies… (Krysten Ritter & Kiki Layne). Kiki Do you love me!?

Dougie: Lol.

AWARD – LIVE ACTION SHORT FILM (Skin)

Idris: Congrats to them.

Dougie: Yeah, they seem ecstatic.
AWARD – ORIGINAL SCREENPLAY (Green Book)
Idris: Ouch. Sam Jackson going at the Knicks hard.

Dougie: I mean, he ain't wrong. Trash. They are trash

Green Book, cool.

Idris: Very nice. It really was an interesting look at an old subject.

Dougie: Yeah, for sure. People are tired of these movies, but if they are told correctly and with care, it's always worth a look.
AWARD – ADAPTED SCREENPLAY (Blackkklansman)

Idris: We owning this category. Lots of good black films.

Dougie: This is another tough one. Blackkklansman and Beale Street were both heavy-hitters.

DAMMMNNNN, Spike got one!

Idris: Wow. Congratulations to Spike Lee. You can tell that this means a great deal to him. Even shouts out the 2020 presidential election? He was prepared for this – "Let's do the right thing"

Dougie: 20 years since Do the Right Thing. He's been out here making films, trying to keep people "woke" since before it was fashionable. My man got NOTES up there. So happy for him.

AWARD – Original Score (Black Panther)
Dougie: Oh shit. It's the Prom King and Queen. Michael B. and Tessa T.
Idris: Oh God, Tessa Thompson is a spirit. I don't think she's a real person.
Dougie: No, she's beyond all of us. We are truly not worthy. I see Michael B. bought his mother to the Oscars. Rocking the crushed Blue Velvet tux. Fly.
Idris: I think Mary Poppins might have it. LOL
Dougie: Black Panther could win this one…

Idris: Wrong again. Well fuck. I'm glad I'm wrong at least. This dude just won a Grammy actually. (Ludwig Gorranson)

Dougie: ANOTHER ONE. That's 3 for Black Panther!

Idris: Chadwick think he's filming Black Panther 2 with that suit on.

Dougie: Lol, let him live in this moment.
AWARD – ORIGINAL SCORE (A Star is Born)
Idris: Easy Win. I'm not getting this one wrong.

Dougie: Yeah, it's no contest.

Low key tho. Mark Ronson is racking up Awards behind the scenes.

Idris: What the fuck? I thought this was All the stars to win. Ronson is a great producer though so I'm not really that mad.

Dougie: Oh, Nah. Gaga been out here. People love this song.

I'm still singing "All the Stars". It's a classic. But I think we saw this from the Grammys.
Idris: RIP STAN LEE. And also Jussie Smollett's career.

Dougie: LOL, Ugh. It just got dark. Kanye looks like a saint by comparison.

Idris: Well Kanye ain't a criminal.

Dougie: Isn't he tho, Idris? Isn't he?

Idris: You talking about Yeezus? Yeah, I want my money back on that album as well.

Dougie: We've been hoodwinked. Bamboozled.
Commercial – Elton John Biopic

Idris: So this Elton John movie is a must see.

Dougie: Yeah man, keep the biopics coming.

Idris: Barbara Streisand is royalty fam. And she came with the Jokes.

Dougie: Barbara Streisand a classy lady. NY icon.
AWARD – OUTSTANDING ACTOR (Rami Malek)
Dougie: This gotta be Rami.

Idris: Yes. But another stacked category

Dougie: Yeah, Rami is too good. That man is on another level.

Idris: Well deserved. The Oscars belong to Black Panther and Bohemian Rhapsody. This is a moment, Rami said so. Another great example of representation in movies as well. This is really great on many levels.

Dougie: It has been a great ceremony so far. I really could not have predicted all this. Since they changed the voting process so many great things have happened. It makes me look forward to the future of films. I'd really love to see more female representation in the Best Director category. I'd like to see the studios put more women behind the camera, but if tonight is any indication, I think we'll see more of that inspiring progress soon.

Idris: Yeah it's an ongoing process. The work of inclusion needs to continue. We need to see different colors, sexes, genders you name it. Diversity only makes these films better.
Idris: That girl Amanda Stenberg. Super talented. Among another things.

Dougie: Hahaha, I see you. Yeah man, she is something else. I really think she'll be a force to be reckoned with at the box offices for years to come.
AWARD – OUTSTANDING ACTRESS (Olivia Coleman)

Idris: I've been wrong so many times tonight. But I'mma go with Gaga. Nah, McCarthy.

Dougie: Fuck. Another tough category.

Idris: Ok. Not mad at this. This is why I need to vote on these things. I don't.

Dougie: Yeah, Coleman has been sweeping the awards circuit. I'd like to see more of her, tho. Melissa McCarthy looked like she really wanted that one.

Idris: Yeah you'd want an Oscar if you had to be seen on TV like that too.

Dougie: You gotta know the competition tho. In some categories, depending on awards season, you know if you have a chance or not. At least you get the swag bag tho.

Idris: Representation. Do it for the ladies, girl.
Dougie: 2 to go! Best Director and Best Picture.

Idris: Good. I'm ready for bed.

Dougie: How much money has Childish Gambino made tonight off this Cadillac commercial?

Idris: That dude stay winning. "Turn all the lights off"! That weird energy winning.

Dougie: Where was that "weird energy winning" shit in middle school? Huh?!

I ain't mad at him. It's great for all of us.
AWARD – BEST DIRECTOR (Alfonso Cuaron/Roma)
Idris: It would be CRAZY if this went to Spike!

Dougie: Rooting for Spike again but this will be a tough one.

Idris: Wow! Ok, you know what? Alfonso deserved it.

Dougie: Cuaron is legit tho. That dude is a visionary.

Idris: I agree. Also we here for our Latin brothers and sisters too.

Dougie: Damn right.
AWARD – BEST PICTURE (Green Book)

Dougie: This has got to go to Roma, right? It always weirds me out when they don't pair Best Director and Best Picture.

Idris: Damn… it would make sense to give it to Roma I guess. But we can consider impact as well. No film had more impact than Black Panther.

Dougie: You are absolutely right. The Black community and American Cinema, in general hasn't seen anything the level of Black Panther. It was a phenomenon. Roma is a sleeper tho.
Consider all the fuckery the current administration has been levying against Mexico. Another win for Cuaron here would be a huge statement.

Idris: I see what you're saying fam.

All of the nominations are black it seems like. Just black black black… Very cool. I

Dougie: WHHATT??!!! I literally just yelled out loud.

Holy shit. Fam, I did NOT see that coming.

Idris: We are in here! It's a celebration bitches. I am happy for this film. I think the point was clear. Not because of this win, but because of the nominations man.

Dougie: Yeah, so I want to have a positive take, here… Many people were more critical of this film because audiences are typically sick of the "white savior" trope and the black friend teaches a white friend about racism thing….but we can't get where we want to be alone. These stories if told correctly are still very necessary. Mahershala and Viggo did an amazing job.

Idris: So when we talk about black people being tired of certain stories, I think we mean we are tired of being portrayed as just one thing. Usually negatively. Maids. Slaves, etc. But every movie in this category showed black people as people. Black and latin people are layered, like every other group. We aren't a monolith, we are complex. You can't just stereotype us all as one single thing. Each black film showed a level of creativity and boldness by telling a piece of the very large and complex story of black culture.

Dougie: Correct. We are not a monolith and that's kind of the point of this blog, isn't it? We try to be objective. We genuinely love films and I think that this year's Academy Awards was something special. We have a long way to go but I think the future will be bright. When given an equal platform and an opportunity to tell our stories we will always shine.

Idris: Yeah man. That's exactly why we write. We want to share our unique way of thinking. We love to see our people win, but more so we love to see our people having the chance to win. So shout out to the Oscars. And ALL the winners. Well done
OB: Ok, See you guys next year! Please leave us your comments, feedback, and share the blog if you like what you read.